Ben Shapiro is a Jew, first last and always. Nothing more. His loyalty is to Israel and his own people ONLY.
Therefore, he will never, ever represent or support Whites or White issues, "conservative" or otherwise.
Wish more idiot Whites understood that.
Ask Shapiro if he supports the "browning" of Israel. His answer will tell you everything you need to know about this anti-White Jew weasel.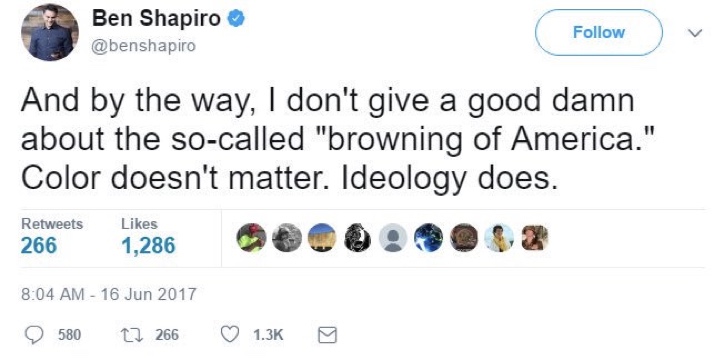 Just finished watching Nick's stream of the Shapiro speech (posted below, and highly recommended over watching the uncommented Shapiro speech if you haven't seen either yet, because Nick's takedowns and instant-perfect-recall deconstructions of Ben's arguments are excellent).
One thing that really struck me about Shapiro is that he was visibly upset when reading the cookie joke. A lot of Jews just get angry over Holocaust jokes, or act indignant for power leverage, but Benny here was genuinely upset, an upset deriving from anxiety and fear. This is a man who is not emotionally strong, he's a neurotic mess, and trolls punching on a genuinely sinister anti-Jew angle with him could seriously unhinge him for future public speaking, even break him Sebastian Gorka style.
When Shapiro's neurosis gets tweaked, you see that he is unable to think, and his "cleverness" goes out of the window. He resorts to defensive, childish, witless one-word insults that are totally unfunny. It would be good to see him triggered into this state as often as possible, not least to contrast him with Nick, who never loses his emotional cool and with it, his far-superior ability to rationalise.
reminds me of when he got humiliated by that British guy live on tv someone should ask if he remembers that defeat but something tells me he dosent
Bahahahahahahaha - I love it.
Ironic you've just posted a Hitler quote that would advocate the opposite of what I'm saying. I'm saying that if you're on social media don't engage with Shapiro on an intellectual level (e.g. bother trying to debate him on "politics"), engage him on an emotional level, by bringing up things about his personal identity and his people's history.
The only thing that matters to Benny Boy is the Jewish people, its future survival and continued dominance of the West (which incidentally he sees, quite rightly, as intertwined ideas). Suggesting to him alternative future timelines, and evoking past tragic events will unhinge him. He has no interest in politics. Politics is for him a means to an end, a way to make money, a smokescreen. So scoring political points with this guy won't really make a mark on him.
Make it personal.
I was just too lazy to highlight the part where the jew forgets his defeats when they're brought up
I'm watching the replay now. There was a lot of nonsense in his speech. One thing he said was jews who are against the state of Israel are "bad jews". I've met a few anti-Zionist jews and didn't consider them to be bad people nor their set of values compromised for rejecting the Balfour declaration.
And also optics could still be maintained if we triggered him with esoteric jokes that he will surely get but normies will not --and this jew will start ticking with his asbergers
Yeah you could do this, but he isn't going to be on stage much, and he will have a stage managed Q&A when he is again.
So actually, we don't even need to do that.
On the internet, we can poke him with whatever, screw the optics I'm going in, because what difference does it make? He's just going to smear us with whatever anyway. He can come out with "oh but Anglin said and Anglin likes Fuentes so meh," but that shit is so convoluted and weird that no one really takes it seriously and it just makes him look more unhinged.
If it's Jewish it's crazy, real simple rule to follow in life, keep it simple. Jews have that "neurotic/schizo gene alledgedly so I'm on safe ground. Shapiro's got that supremacy crazy gene too, poor dumb bastard he's not even human in my world. He's got big money and main stream Jew green light that's all, but we already know that. Agree the only way to depose this schmuck is to blitzkrieg him with emotional epithets and attack his Jew supremacy and Israel go for the emotional Juggler and make him melt down. Trying to debate him is a waste of energy.
Yes, sorry, I should have said, I was referring to online trolling/shitposting on Twitter, Youtube etc. I'll edit my post to make that clear. IRL questions before an audience should be as researched and optical as possible, but as you said, he's never going to allow that possibility to happen.
The absolute irony though of curious normies visiting the Daily Stormer, after hearing your name dropped in the speech, and an article of yours quoted, because they want to find out exactly what is going on, and who is being referred to. I'm not sure if this strategy has been properly thought through.
Shapiro has an enormous button on chest that gets pushed very easily. The speech last night showed how emotionally unstable he is. I stopped watching at the beginning of the Q & A because I knew it would be very controlled.
Shapiro can only debate in a controlled setting, like almost all jews. The only place to debate them is if you bump into them in the street. One or two interruptions will completely wreck them. Anything to knock them off course and send them out of control like an unguided missile.
If someone does sneak into the Q & A and confront Shapiro, he will make an even bigger ass of himself.
Hah! On my timeline the Holohoax happened before the USS Liberty. This is one Jew who is too sickening for me to watch or listen to.
Damn Straight! Luv ya much!
Luv this guy, but I'd rather get taken out for something I do rather than something I said or wrote…I know, splitting hairs…